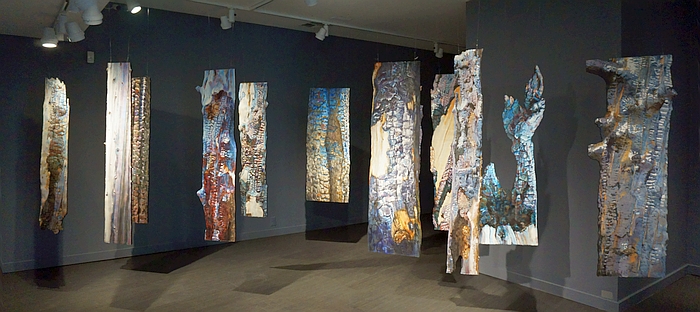 At theSan Juan Islands Museum of Art in 2017 I installed 12 burned tree paintings, mounted on board and suspended from the ceiling. It was an artistic peak moment. A number of the individual paintings are shown the Burnscape section of this site. They were also installed at the Museum of Northwest Art's 2016 Surge Festival and a blog post describes the complex process of production and installation.
As part of Shunpike's Storefronts initiative, 10 paintings have been printed on fabric and installed in one of Amazon Seattle headquarters' street-level display windows from July-October, 2018. The tree reproductions are in two layers, a solid layer and a transparent silk organza. They are also accompanied by five stories written by wildland firefighter and author, Lorena Williams.

Please see
About the Artist
for additional news and c
urren
t events.